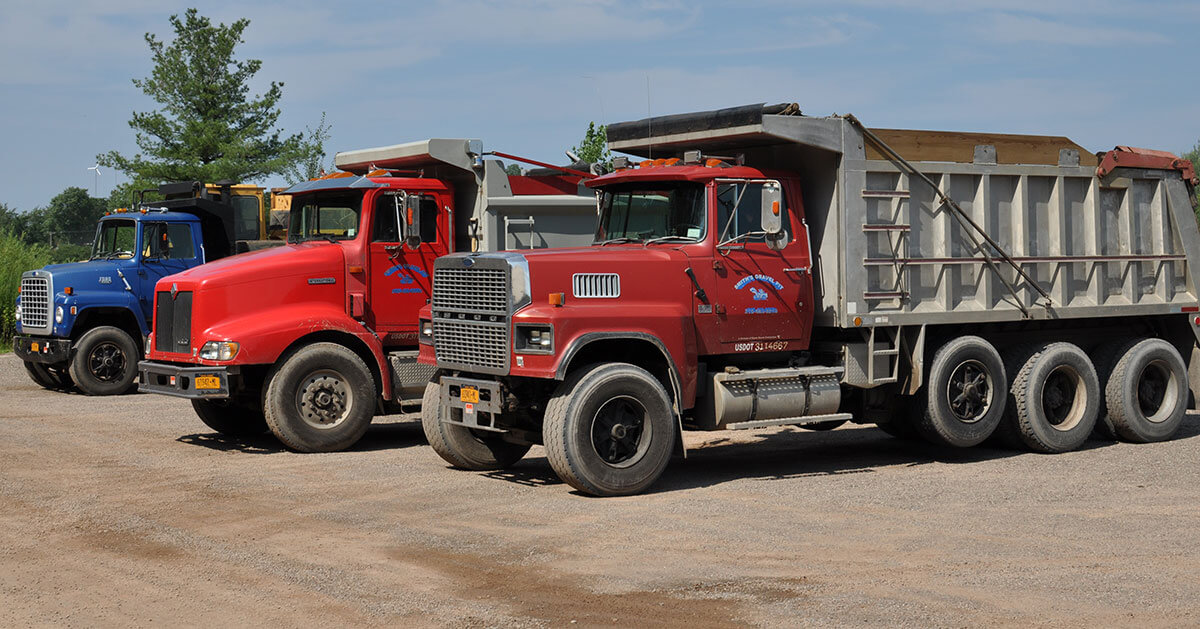 TRUCKING AND STONE DELIVERY ROCHESTER & SYRACUSE, NY
When it comes to getting the best gravel, stone, topsoil and
sand delivered in Rochester, NY
, you can count on Smith's Gravel Pit. Whether you are looking for Rochester stone delivery for your commercial or residential project, we pride ourselves in offering high-quality products and top-notch customer service.
We believe in not only providing value for your dollar, but consistency in every order placed with us. From your first contact with us, you will recognize our commitment to our customers and to offering quality service and products. Smith's Gravel Pit Syracuse, NY, serves clients needing our products for both residential and commercial applications. While we take pride in offering the best materials available, we also commit to helping you through every aspect of your project successfully. We take the time to understand your needs and your expectations.
Serving You Every Step of the Way
When it comes to helping clients with their trucking and sand delivery needs in Syracuse, NY, we are there every step of the way. We will help you choose the right products for the job, determine how much of the product you will need to successfully complete the job, and we will provide trucking and delivery services to get your materials where they need to go throughout the Rochester area.
To learn more about our products and services, call us today and speak with one of our friendly, experienced team members. We will take the time to get to know you and your project needs. We don't want to just be your choice for this project; we want to be the company you choose for all your future projects. Our goal is to establish long-term relationships with our customers. Then you know you can count on us time and time again.
Trucking, Materials, and Equipment
At Smith's Gravel Pit, we have the different materials for your project, as well as the trucks and equipment needed to haul those materials and to help you finish your project. We have trucks for hire, and we also offer licensed drivers for hire as well. You can choose from a 6-wheel dump truck or a 10-wheel dump truck, suited for the size and the nature of your order.
If you need materials for a residential project and don't have a CDL, we have capable, experienced drivers who can fulfill or deliver your order, making sure you get your materials to the worksite. At Smith's Gravel Pit Rochester, NY, we are always here to help, ready to get you the materials that you need while helping you with transporting it.
Rochester contractors like the added convenience of getting their materials and their equipment from the same location, so we are pleased to offer those services. If you need trucking services in the Rochester area, call us today to learn more about our drivers for hire and our trucking options.
STONE DELIVERY SERVICES SYRACUSE, NY
We want your aggregate product order to be convenient and beneficial. For that reason, we offer stone delivery services in Rochester and throughout the Finger Lakes Region. Our team will deliver to Rochester, Syracuse, Canandaigua, Geneva, Auburn, Seneca Falls, and Wayne County areas. Call us today to schedule the delivery of your materials order.
In addition, we offer a fleet of dump trucks available for hire to assist on your jobs. We have portable crushing equipment available for rent that can recycle and condense various materials left from your old project, with the ability to crush roadway materials and asphalt into reclaimed pavement that you can use for other applications or mobilize to use at other job sites throughout the area, so you can reduce cost and waste and save time and money. Call (315) 483-6510 today, so you can learn more about our services.
How Much Material Will You Need?
Use or online calculator to figure out roughly how much materials you need.